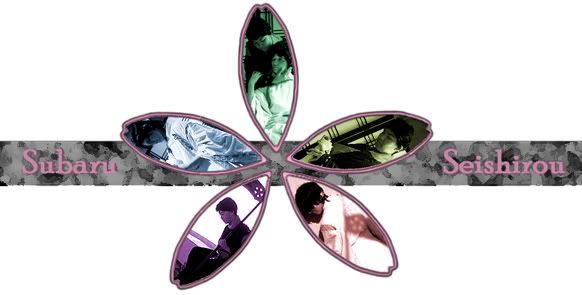 No, this journal is not Friends Only, I just wanted an excuse to use this lovely banner made by
forelyse
, featuring myself as Subaru (white) and
silvernaofficer
as Seishirou (black). Please see my profile for my friending policy.
BAERS Regency Ball
Regency dress

Fanime 2013
Touga Utena
Rikuou Gouhou Drug
Count D Petshop of Horrors

San Diego Comic Con 2013
Prince Charming Fables
Wonder Woman(?) DCU new 52-pants version!

Costume College 2013
AUGH IDK


Subject to change of course!


Regency Dress

Less than a week to go!

Have pics to post~ later. I have one more layer to hem, the evil layer, then just button holes and buttons and the dress is done! Then finishing trimming the shoes, which I've been taking pics of sooo post those later. And then making a reticule/purse :D I wanted to do a particular kind because I wanted to mimic a pattern on my sleeves but I can't figure out how to do the piping the way I want to so I may end up doing something else...

Fanime

Is the week after!

I'll be most of the time in the artist alley helping out some friends, I don't have a table number, but please come check us out!

I'll be:

- Rikuou from Gouhou Drug/Lawful Drug/Legal Drug/Drug & Drop (... I just call it Drug at this point), which is awesome because it's civvies plus an apron, a wig, and a moody expression.

- Count D from Petshop of Horrors, I maaaay bust out something new at the last minute, but if not, I made this costume back in 2005 (which was a bit sad because we had a sizable group, but a communications mishap and I never met up w/ the rest of the people ;_;). I'm really excited because I'll have a Leon this time :D

- Maybe! Subaru from X/1999. I loooove Subaru so I'm never opposed to wearing it. But I favour the covered in blood version, which may not be best for sitting in AA... >.>

Post Fanime

The next event is a Victorian bustle picnic, which I haven't even started sooo we'll see. Then Comic Con, then Costume College. I really want to make some more just clothes, but we'll see. Also! Post Fanime I really hope to work on my website :D AJ coded and made it beautiful and awesome and I haven't even touched it yet ;_;
Yay lists!
Current Music:

Regina Spektor ~ Better
Edited more pics last night!
And I'm still more ahead than this, but yay.
(
Pics, notes, and a facepalm realization 8D
Collapse
)
Current Music:

Bastillle ~ Pompeii
Still have loads of Europe, and Gallifrey, but getting there!
Anyway, a little over three weeks ago I had another hat party :D
For those unfamiliar,
you can head on over to my hatting blog~
(Or I could tell you, but that's less fun).
We had some new faces this time, which was really exciting. I'm not so great at that networking thing, but I would like this to be more of a... "thing" (I have no idea how to explain, so I'm going to stop while I'm ahead).
56 hats!
(
My faves
Collapse
)
I'm thinking a themed party would be good next time, like Star Trek (yes, we totally made more Star trek hats), or Avengers.
I'm slowly catching up!
May 18th there's a Regency Ball
celebrating the 200th anniversary of Pride & Prejudice
to which I'm going. Nervous about the dancing bit, but lots of lovely ladies in Regency wear?
OKAY.
Naturally I wanted to make something new, so I bought
this saree
but when it came it was quite a bit lighter and also the stripes weren't variegated. I had planned on pairing it with a blue, maybe like a dark royal blue or something a bit peacocky. Anyway, with the colour it actually was I couldn't think of a good blue to pair with it. I thought a pale yellow or a pale pink would do well with it, but since I really don't care for yellow, pink it was.
So at my local Super Joann there's this muslin that's suuper fine and see through and floaty and makes me think of Regency right away.
Well.
I didn't go to the Super Joann. I went to another because it was on my way somewhere on a Friday night and I really wanted to get started
that
weekend. I bought the finest muslin I could find, thinking I had misremembered the fabric, and some light pink RIT dye. Several weeks later while at my Super Joann I found that I hadn't misremembered, the other Joann just didn't have it and boo I was already way too far along to start over. Boo impatience.
Anyway, I wanted a suuuuper pale pink, so I did like... 1/8th of the recommended amount of dye. It turned out pretty bright 8D I don't even know.
Right so! My inspiration dress:
Take a good look.
Now forget all the details.
'Cause that's what I did pretty much.
(
Progress pics and more construction chatting
Collapse
)
So! I have more pictures, it's a bit further along than that.
Last night I drafted my sleeve shape (about that following the pattern....) and hopefully this weekend I'll get those in :D
I keep meaning to post about my current project~! Soooo, I am!
Current Mood:

restless

Current Music:

Queen ~ Don't Stop Me Now
I have a lovely Gallifrey post written and such, but haven't looked about for pics yet. And really should do that as long as I'm sitting here, but I get distracted...
Anyway!
A friend of mine does these really awesome Winter Dinners, where she makes everything. Appetizers and the full meal, and delicious desserts <3 I always thought it'd be neat to host a dinner party. So this year after her dinner I was extra inspired but then thought, nooooo, can't do. But. Tea. Tea I could pull off... and began plotting.
And this Sat I got together my lovely Ladies Who Do Tea, and it happened~

mollypocket
was visiting and was awesome and helped me make stuff :D
(
Teeeeeea!
Collapse
)
All in all a successful venture.
Sammiches take way longer to make than I time-budgeted for though 8D;;;;
Behind on everything ever, yet again!
Current Mood:

hungry


-I actually have my posts for Gallifrey written, but due to lack of surfing time and being in so many panels at con, I have very few pics so I've been holding off on the theory that I'll eventually look for pics... Really I should just upload what I have and post.

-Have loooooads of in progress pics of my latest Regency dress, which I'm hoping to finish by next Saturday so I can move on (trying this one-thing-at-a-time deal out, and it semi works in that it makes me want to be be done already so I can work on other things).

-I also would like to get back to Thing a Week, I'm determined to catch up and by the end of the year have 52 things.

-Picture a day fell flat on it's face with my dog, and I've been fairly lethargic about that anyway soooo that's not coming back.

-Life life, may post about that later (but knowing me, probably not).

-Am, surprisingly, current with Doctor Who. So far I'm liking Clara. I'm like the Doctor's new coat the most though.
I liiiiive.
Jey and I got up semi early (6ish, I believe) for train times :D
It was off to Berlin!
We made sammiches and stuff the night before (or maybe that morning, my memory, it blurs) with the afore-pictured salami deliciousness, had some snacks and drinks packed up and walked down to the train station yay~
Since Ramstein is so small, there wasn't a direct train from there, but all in all we only made two transfers. One only one stop over at Landstuhl and one in... Frankfurt maybe?
And into Berlin either at 13:00 or 15:00, one of those I can't remember which.
Off the train and to the hostel!
According to the directions, it was to be a less than ten minute walk from the station. We stayed at
Plus Berlin
, which had good reviews on Hostelworld but to be honest as we walked there the neighborhood seemed a little skeevey and I was a tad nervous! (It was for naught, to dispel any worry up front [though obviously I made it back safe soooo])
On the way there I saw this graffiti!
I thought it was hilarious, and of course it made me think of

iamradar
8D
(
Hostel, Berlin Wall, and More!
Collapse
)
More Berlin times coming later!
PS- Usually I try to catch up on reading before posting, but I'm about 1.5 weeks behind, sorry!
Alright!
that
day Eight was actually day Nine. I forgot Trier was befooore the military base.
Also I got a bit confused about which day I was waiting for the train. That's because I had to wait both days 8D The first day, when going to Kaiserslaturn, I had wandered about more and shops were open and I got to go *in* to many places. So this time, I remembered how the machine wouldn't take the 50 Euro notes so I popped over to the bank on the way to get change. Which took longer than I thought so I literally watched the train leave as I walked down to the station :/
So again, an hour to kill. Only this time no shops were open yet (and anyway, I'd been in them all) so I walked right out of Ramstien 8D
(
Couple shots in Ramstein
Collapse
)
So after all the business of the bank and getting change... it accepted 50 Euro bills. Because this fare was much more (30ish instead of 5ish or whatever it was).
Anyway. Trier was about a two hour train ride, full of stunning green scenery which my camera wasn't speedy enough to capture, but I really enjoyed.
Originally I had wanted to take this day to go to Metz, France or Luxembourg (also 2 hours out and about the same price) but I hadn't wanted to pre-buy tickets in case Jey had a better suggestion or something else worked out. But then buying at the little machine said it was 230 Euros! No way! Jey couldn't figure it out either why it would do that. But Trier ended up being totally amazing.
(
Trier!
Collapse
)
Alright! Now I just have to keep this up.
I know I said I did day Eight already, but