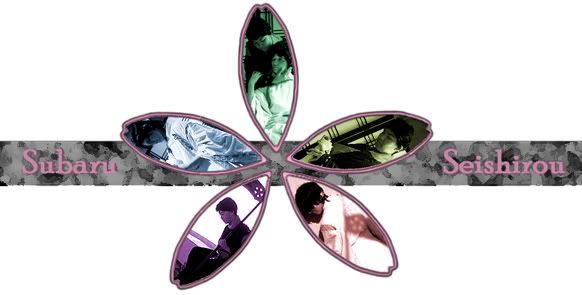 No, this journal is not Friends Only, I just wanted an excuse to use this lovely banner made by
forelyse
, featuring myself as Subaru (white) and
silvernaofficer
as Seishirou (black). Please see my profile for my friending policy.
Convolution 2013
Fae Lord

Gallifrey One 2014
AUGH IDK


Subject to change of course!
2nd and last day in Rome!
We had leftover pizza for breakfast and hit the same cafe for awesome deliciousness, then off to… the Colosseum! I was most excited about this :D
(
Onto the Colosseum!
Collapse
)
Whoops, had this all written up and forgot to post 8D
Current Music:

Bastille ~ Overjoyed
Posted about my latest hat party
over at the hat blog
.
I feel like I really need to be doing more with that blog, but I'm not sure what.
Any ideas?
A friend suggested that I go about making my hat thing a non-profit org, 'cause then he could get his company to donate every time he helps out (which, would be nice to pay for the materials and foodage) but then I was thinking if I were a proper non-profit I could probably get Joanns to just donate the fleece.
Also forming my own non-profit would probably look really good on my resume.
Anyone have experience with this sort of thing?
Current Music:

Mumford & Sons ~ Awake My Soul
Anyway, on the 15th I went and checked out the Star Wars exhibit! It will be there until February 13th, 2014. So if you're around San Jose before then, and like Star Wars, I recommend checking it out!
I took
loads
of pics, so clicking any of these will take you to my flickr gallery.
(
But here are some of my favourites
Collapse
)
Way too many pics 8D
So what I didn't like: nowhere on any of the costumes does it say anything about whether they're original. I would have just assumed they were all screen worn but when I got to Padme's battle outfit, I knew it wasn't because I made that outfit and am really familiar with it. I also wondered about Leia's because it looks like a heavy knit and I remember reading/watching/whatever an interview where Fisher said the fabric was so thin she couldn't wear proper undergarments and was being… supported with gaffer's tape. But since it doesn't actually say one way or the other on the info placket, I don't know what's original and what's not.
Also naturally I would have liked to see WAY more costumes. It was, generally, smaller than I'd thought it would be. But there's still plenty of neat stuff to see, so totally worth it if you're a fan.
Alright! Brief break from Europe so some more current happenings. Local travels! Nearish to me is the Tech Museum, which is a lot of fun and I recommend it in general, but they also have exhibit space for temporary exhibits or traveling exhibits and such. They had a nice Star Trek exhibit some years back, the traveling Body Works (or whatever it's called) was there, and a wonderful DiVinci exhibit was there a few years back. Of course there's been more, but those are the ones I've been to.
Current Music:

Matchbox 20 ~ Could I Be You
It was a bit dismal when we left the Vatican, but not too bad.
We wandered Saint Peter's Square for a bit, which is a circle by the by.
(
End of Day 21 (about time)!
Collapse
)
Current Music:

Matchbox 20 ~ The Difference
Beyond not realizing how huge the Vatican Museum is in general, there were a lot of painted ceilings I was totally unaware of. To be honest though, partly due to the fact that we knew we didn't have a lot of time and that we were unprepared for the vastness, we were hitting processing overload. So we wanted to get to the ceiling before were just like "Okay yay another pretty thing."
That is not it.
But it was on the way there, and I really liked that hallway.
(
Sistine Chapel! Finally!
Collapse
)
So I think I mentioned, but we went to the Vatican for the Sistine Chapel, kind of a must. All the other things are bonuses.
Today will be a bunch of statues! (Then ceilings, then a castle to end the day)
You can see a bit in the background, the transition from Egypt to Greece 8D
(
Bring on the marble!
Collapse
)
The Vatican, STILL.
Current Music:

Rob Thomas ~ My My My
I took a lot of pics, so this is mostly pics and not commentary. Also, it's just some of the pics 8D
I
loved
the Egyptian section. We have a very fine Egyptian museum local to me, the Rosicrucian Museum, and I loooove going there. Still, I've been many times, so it was lovely to see new things :D
(
Pics!
Collapse
)
The Vatican! OMG!